MCE was contracted to review the design of the proposed pipe layout of the new heat exchanger installation at # 1 Digester. The scope included the steam lines as well as the process lines to and from the heat exchangers.
The pipe layout have to be reviewe using pipe stress analysis software CAESAR II Version 5.1.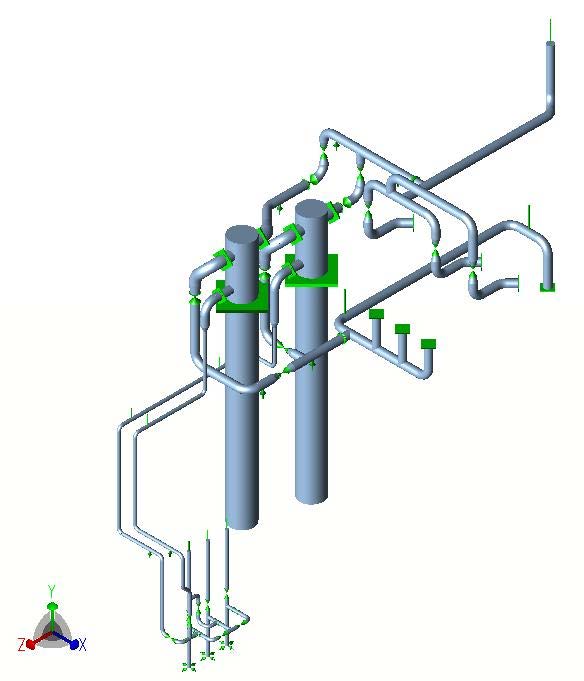 The results of the analysis indicate that the proposed pipe layout complies with the code in the sustained case but fails in the expansion case. The calculated loads on the nozzles (table 1) are high and might not comply with the required loads on the nozzles according to the original equipment supplier (OEM).
The pipe layout fails on one of the existing tie-in points (node 890) on the liquor line. This is the closest anchor point to the new tie-in point. The new line expands from this point onwards and therefore increases the bending moment on the pipe.
The calculated loads on the heat exchanger nozzles are tabled. It is clear from the results that the loads on the liquor inlet and outlet nozzles are not acceptable and will cause stress induced cracks in future. The high temperatures and the fact that the process lines are stainless steel causes large deflections in the lines. This expansion of the lines in turn causes large moments on the nozzles due to the stiffness of the 250 NB lines.
The loads on the steam  inlet nozzle, on both heat exchangers, are acceptable due to the flexibility of the 100 NB line.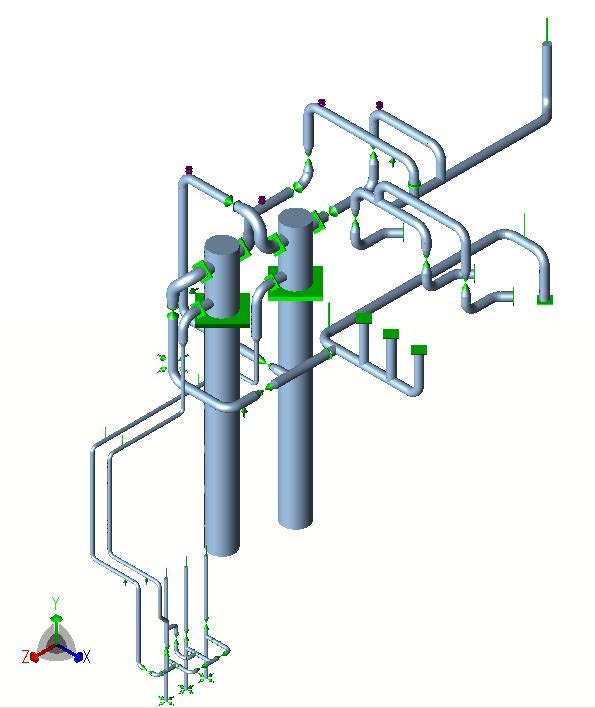 RECOMMENDATIONS
The pipe layout was altered to minimize the loads on the liquor inlet and outlet nozzles. Due to the fact that the heat exchanger expands it will be necessary to install spring hangers on the process lines to accommodate the expansion.
The following recommendations:
Change liquor outlet pipe route on both heat exchangers
Change liquor inlet line route to heat exchanger #2
Install spring hanger supports on liquor lines as indicated
Ensure all tee pieces are welding tees (bought out tee pieces)
Investigate the existing liquor line integrity before alterations
Install proposed supports